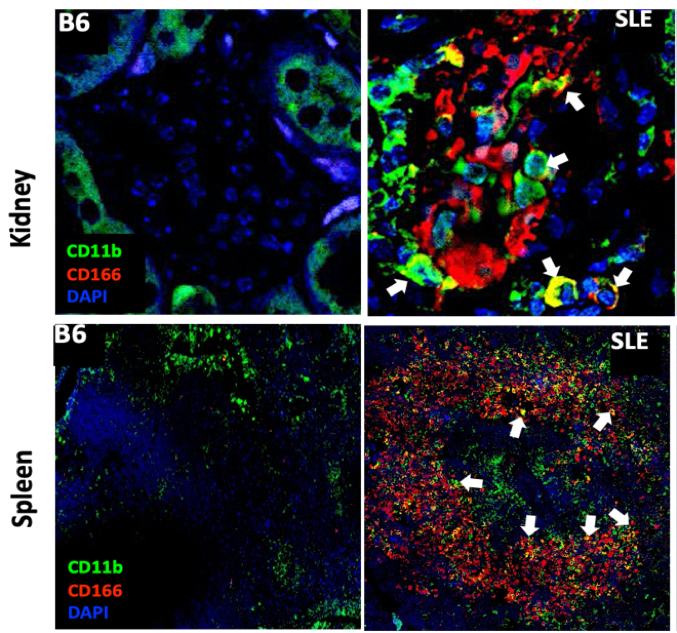 Heightened CD166-CD6 interactions drive murine lupus pathogenesis
Lead: A.R. Rajalakshmy
Team Members: Yanping Chen, Rani Nune
Collaborators: Equilium & Team
Project Summary:
Our recent studies have identified ALCAM/CD166 as a potential biomarker for lupus nephritis (LN) in multiple ethnic groups. ALCAM is a cell adhesion molecule expressed on immune cells. CD6 is a ligand for ALCAM/CD166 and is highly expressed on T cells. ALCAM/CD166 plays a critical role in T cell co-stimulation, inflammation and cell migration. ALCAM-CD6 interactions regulate pathogenic immune cell proliferation and differentiation in autoimmune diseases. The current study explores how the interaction between ALCAM and CD6 promotes the development of lupus nephritis. Also, this study explores the cellular and molecular pathways regulated by ALCAM/CD166-CD6 interactions driving lupus disease progression.
What is already known in the field?
ALCAM/CD166 is a potential biomarker for LN, and is elevated in lupus patients' urine.
CD6 is a regulator of T-cell selection, differentiation and activation.
CD6 blocking reduces disease pathogenesis in other autoimmune diseases.
What is new?
Immune phenotyping of ALCAM/CD166 and CD6 expression in lupus/LN mice models
Pharmacological and genetic targeting of ALCAM/CD6 in lupus nephritis models
Uncovering the cellular/molecular pathways regulated by ALCAM/CD166-CD6 interactions in lupus immunity
Why is this important?
Lupus nephritis accounts for substantial morbidity and mortality in patients with lupus. Early identification and prompt management have significant impact on long term outcome in patients with lupus nephritis. ALCAM/CD6 can contribute in both respects, to facilitate early diagnosis as well as constitute a treatment target for lupus nephritis. In addition, we will learn more about a major immune regulatory pathway in immunity, and how it can be regulated.
Ongoing/future steps:
Genetic/Pharmacological approaches targeting ALCAM/CD166 in murine lupus
Investigating the cellular pathways regulated by CD166/ALCAM-CD6 interactions in lupus