Somalogic's SOMAscan Assay allows for the simultaneous detection of 1,300 human proteins using SOMAmer (Slow Off-rate Modified Aptamer) protein-binding reagents. The assay is capable of detecting proteins in μM to fM concentrations by using dilutions of highly specific SOMAmers that bind to their cognate proteins. Bound SOMAmers are then quantified using a custom DNA microarray. A more technical overview of the assay can be found here.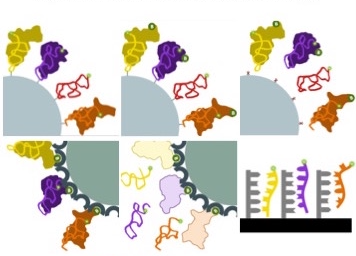 The MohanLab has been trained and certified as a Somalogic SOMAscan deployment site that is able to run human serum/plasma, cell lysate, and tissue homogenate. We are also able to run human urine and CSF as well as non-human plasma and serum. Our recommended sample handling and processing instructions can be found here. Discounted pricing is offered to academic collaborators. For inquiries and pricing please email houstontargetedproteomics@gmail.com.
For more information, see Somalogic's website or a recent review article on this platform.
A list of proteins interrogated in the 1.3k scan can be found here.
Selected SOMAmers are also available for purchase through Somalogic's website here.